Tikkun Olam, "repairing the world", is a hallmark of Reform Judaism. Congregation Or Chadash has ongoing social action programs as well as special events throughout the year. If you are interested in getting involved with our social action efforts, contact our Social Action Chairs.
GOOD DEEDS DAY:
CAREGIVER SUPPLIES COLLECTION FOR THE INN AT NIH
The Social Action Committee is organizing a collection drive to benefit caregivers whose children are being treated at the NIH and are staying at The Children's Inn at NIH. The caregiver supply bags will consist of tote bags with items to make their stay more welcoming.
                             Items to be donated include:
Bottled water (mini or full size, 2 per bag)
Sports drinks (Gatorade, Powerade)
Tea bags (Lipton, Celestial Seasonings, Teavana) Caffeine free and caffeinated
Snacks (Individual-sized snacks, especially healthy snacks (apple sauce, granola bars, pretzels, pudding, Jell-O, etc.)
Chewing gum/breath mints
Instant coffee (Starbucks Via Instant Coffee, Nescafe Taster's Choice, Maxwell House International Cafe)
Flavored liquid or drink packets (Crystal Light Drops or packets, Propel Packets, Sweetleaf Water Drops, Mio Water Drops)
Note cards/pens (Anything funny or pretty will do 🙂
Puzzles/Sudoku (puzzle books, word searches, adult coloring books, or Sudoku books are all interchangeable as options.)
Travel-size toiletries (Shampoo, Conditioner, Body Wash, Lotion, Deodorant, Toothpaste) for brand ideas please see target website but essentially Dove body washes; Dove, Garnier, Pantene Shampoos/Conditioners; Dove, Secret, Degree, Native Deodorants; Jergens, Palmer's, Nivea lotion; Colgate, Crest toothpaste.
---
What We've Been Up To:

PJs and Books for Homeless and Other At-Risk Children
The Social Action Committee announces a new program for this Fall. After Yom Kippur and its Rise Up Against Hunger event, we will start collecting new sets of pajamas and new books for area children who are homeless, in foster care, or in some other way at risk. The books should be roughly appropriate to the age of the children who will be receiving the respective PJs. (No coloring or activity books, please.)
We will then donate the items to a wonderful organization called Pajama Program: Good Nights Are Good Days. Details about the organization (which has been active since 2001) are at https://pajamaprogram.org/.
The staff of the Pajama Program has indicated a particular need for PJs and books for two age groups: 6-12 years and 13-18 years. We hope to collect 50 sets of pajamas and books.

Rise Against Hunger – Packing Meals
After the success of our recent Rise Against Hunger program, we are planning next years program now. If you would like to donate to the next Yom Kippur, Rise Against hunger program, please click here.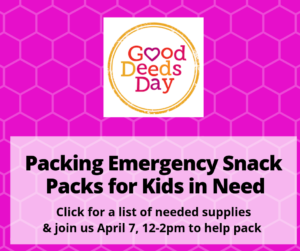 Good Deeds Day
Join Congregation Or Chadash, The Jewish Federation, and the Greater Washington Community, along with more than two million volunteers from around the world, for this fun and meaningful day of service. We will be making Emergency Snack Packs (ESP) and positivity cards for Blessings in a Backpack(BIAB). BIAB helps feed kids on the weekends in Frederick County.
On January 21, Congregation Or Chadash held a dinner in honor of our local First Responders. We served an overflowing spaghetti dinner for an appreciative group of firefighters, emergency medical services (EMS) specialists, and the police who work in Damascus, Clarksburg, Hyattstown, and Germantown. It was great to meet and thank the people who serve our community. In return, they were able to learn a little about Or Chadash and our community. 
Bags of Hope for Foster Children
Please join us in our efforts to help children who are abruptly placed in foster homes, oftentimes without any prior notification. These kids need essential items to bring with them to their new homes. Social workers will deliver the items to the age-group selected, through the Montgomery County Child Welfare Services Department.  Click 
here
 for more information.